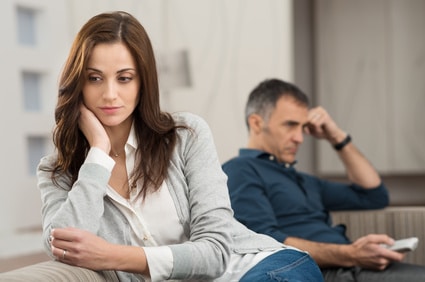 It's one of the worst feelings in the world – and I've been there – when you know your marriage is in trouble, but you feel exhausted, burned out, like you've tried and tried to make things better but nothings seems to work. And even worse, you can't tell exactly what's going on with your spouse, but you get the feeling that they want out of the marriage. This feels downright devastating.
When you find yourself in this uncomfortable place, it often feels like you're at your partner's mercy – that all you can do is wait for them to make a decision about whether or not they want to stay in the relationship. It feels like your efforts don't matter, and that you've just got to wait.
That, however, IS A LIE.
In our Marriage Guide: What To Do When Your Spouse Wants Out, we look at this big lie in a practical way. When it feels like there's nothing you can do – it's because you're not looking in the right place! And the key to finding that right place to look? Expertise.
With the right guidance, you can realign your sites and get away from all the things you've been trying that just aren't working. The expertise is there to show you what you don't know, point you in directions you've never considered, and help you find ways to work on your marriage regardless of where your spouse stands.
Without expertise, it's hard to understand the psychological and physiological components that may be going on beneath the surface of you or your spouse's behavior. The good news is that you can become your own expert!
When I was struggling in my marriage, that's exactly what I did – and how I got to where I am today.
Here's the thing – it takes expertise to build expertise. You have to learn from experts if you want to be an expert yourself, and this is your starting point.
I want to help you face those tough questions, overcome those feelings of hopelessness, and give you the tools you need to become the master of your marital happiness. The Marriage Guide: What To Do When Your Spouse Wants Out is designed to do just that – and it DOES work, no matter how far gone you think your spouse is, no matter how lost you feel. You CAN get your marriage on track.
Next time, we'll get into part two, and I'll give you three hugely effective tips to get started on the path to getting your spouse checked back in, and rebuilding your marriage to be the relationship you've always wanted. You can do it, and I'm here to help.
For more advice on how to strengthen your marriage, check out the StrongMarriageNow System today!
Dr. Dana Fillmore and Amy Barnhart, co-Founders, StrongMarriageNow.com