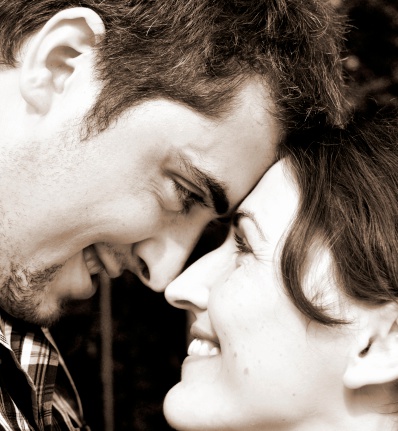 Last time, we talked about one of the worst feelings in the world: the overwhelming fear that your spouse wants out of the relationship, and the paralyzing sense that there isn't anything you can do about it.
We established that these feelings of helplessness, the idea that you just have to wait for your spouse to make a decision to check back into the marriage, that there isn't anything you can do to help – is a LIE.
And as we also mentioned last time, sometimes it takes some serious expertise to help you realize what you might be doing wrong, why what you're doing isn't working, and how to find the right tactics to go about saving your marriage – even if your spouse seems totally checked out.
In our Marriage Guide: What To Do When Your Spouse Wants Out, there's a LOT of ground covered, but I wanted to offer you a quick look at three important tips that will help you turn your marriage around. It's normal for couples to "fall out and back in love" over the course of their marriage, and these three tips can be instrumental in building that love back up!
1. The Wisdom of Standing Still
When your relationship isn't at its best, the natural tendency can be to hold on as tightly as possible, to cling to your spouse with all you have because you're afraid to lose them. Unfortunately, this can actually push them further away!
If they are struggling emotionally and not sure where they stand on the relationship, your clinging actually makes them feel bad about themselves, and dredges up the hurt they are struggling with.
Instead, imagine standing still with open arms and a loving smile on your face. You're not clinging, you're simply ready for them to return of their own accord. Instead of pushing them away by constantly bringing up the troubles in your marriage, or berating them with your frustrations, you instead remain calm and still. Begging and pleading for love only pushes them further away.
This is precisely what makes them feel bad about themselves. Once this behavior starts to go away, they can begin to feel comfortable in your company, and are much more willing to address problems and walk back into your embrace voluntarily.
2. Silver Lining Mindset
What if, instead of seeing this period of your life as one of suffering and pain, you saw it as an immense opportunity for personal growth?
It's possible to take every moment of contention, every complaint from your spouse, every time you butt heads, as a chance to ask yourself two important questions:
• What can I learn from this?
• How can I use this information to become the best version of myself?
Instead of feeling threatened by conflict, you can see it as an opportunity for enlightenment. These silver linings exist in every problem, even if they are extremely hard to see.
If you can change your habits to see the upside of things, and to find the opportunities for growth, you can open your world to positive thinking, renewed love and happiness, and success in all of your goals.
3. The Marriage Accord Principle
This might sound impossible, but it's by far the most important tip I want to offer you. Even if you're practicing the other two tips, this is an essential component of moving beyond your problems and beginning the real work of rebuilding your marriage.
I want you to agree with your spouse.
I want you to agree that you don't want the marriage you currently have, that the way things are in the present moment is not the relationship you want. I want you to agree that your old marriage is over.
Now, this is the important part. After you agree that you are no longer in the marriage you want to be in, I want you to ask your spouse, in no uncertain terms, to consider a new marriage with you.
For many couples, the thought of "staying in the same marriage" makes them only think of the existing problems, of things staying the same. Considering a "new marriage" with your current spouse, however, leaves all sorts of mental room for improvement – and really, an entirely new way of conducting the relationship.
These tips are powerful, and can inspire you to take charge of you marriage, your own attitudes, and help you see the light at the end of this painful tunnel. The Marriage Guide: What To Do When Your Spouse Wants Out can work for you, even if you think all hope is lost. Start with these three tips, and get your marriage back on track.
For more advice on how to strengthen your marriage, check out the StrongMarriageNow System today!
Dr. Dana Fillmore and Amy Barnhart, co-Founders, StrongMarriageNow.com