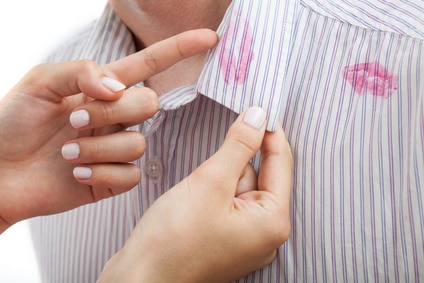 A new study conducted at Albright College has illuminated a new indicator that can show if a spouse (or any significant other) is cheating.
The study looked the differences in speech characteristics – pitch, tone, etc. – when people talked to their significant others, and when they talked to a non-romantic friend of the same sex.
The recordings of these conversations were then given to 80 independent "raters," who were asked to determine if the recording was a conversation with a lover or not. These raters were only able to hear one side of the conversation, and sometimes for only a couple of seconds at a time, yet the raters were able to correctly identify the romantic relationships the majority of the time.
The qualities of the romantic conversations were described as "more pleasant, sexier, and reflecting greater romantic interest" than the calls between non-romantically involved friends.
While these characteristics may sound vague, it's no stretch to imagine recognizing these qualities of speech, whether directed at us, or at someone else.
While we don't want to encourage you to intently listen to every conversation your spouse is having, this information may be a useful way to help confirm or dismiss suspicions that your spouse is having an affair.
The subtleties of the way we speak to one another can be very telling, and not just as a detector for infidelity. Pay close attention to the way people speak to you, and to the natural changes in your own voice, depending on who you talk to.
The study also found that men and women both change their voices to match the tone of the person they are romantically involved with – women lower their pitch when speaking with men, and men raise theirs when speaking with women. This is thought to be an unconscious method of forming a connection by showing the people we're communicating with reflections of themselves.
It's worth noting that the vocal inflections tested were those of relatively new couples, still assumed to be in the "honeymoon" phase of their relationship.
This could further indicate an extramarital affair, since the excited, "sexier" vocal inflections were associated with newly formed relationships in particular.
If you're feeling suspicious, it's definitely worth taking note of your spouse's tone on the phone.
Remember, though, an affair does NOT mean that a marriage is ruined. It's one of the toughest, most painful things that can happen in a marriage, but couples can get through it if they are willing to work at it!
For more advice on how to strengthen your marriage, check out the StrongMarriageNow System today!
[i4w_m_VSL_promo3]
Dr. Dana Fillmore and Amy Barnhart, co-Founders, StrongMarriageNow.com