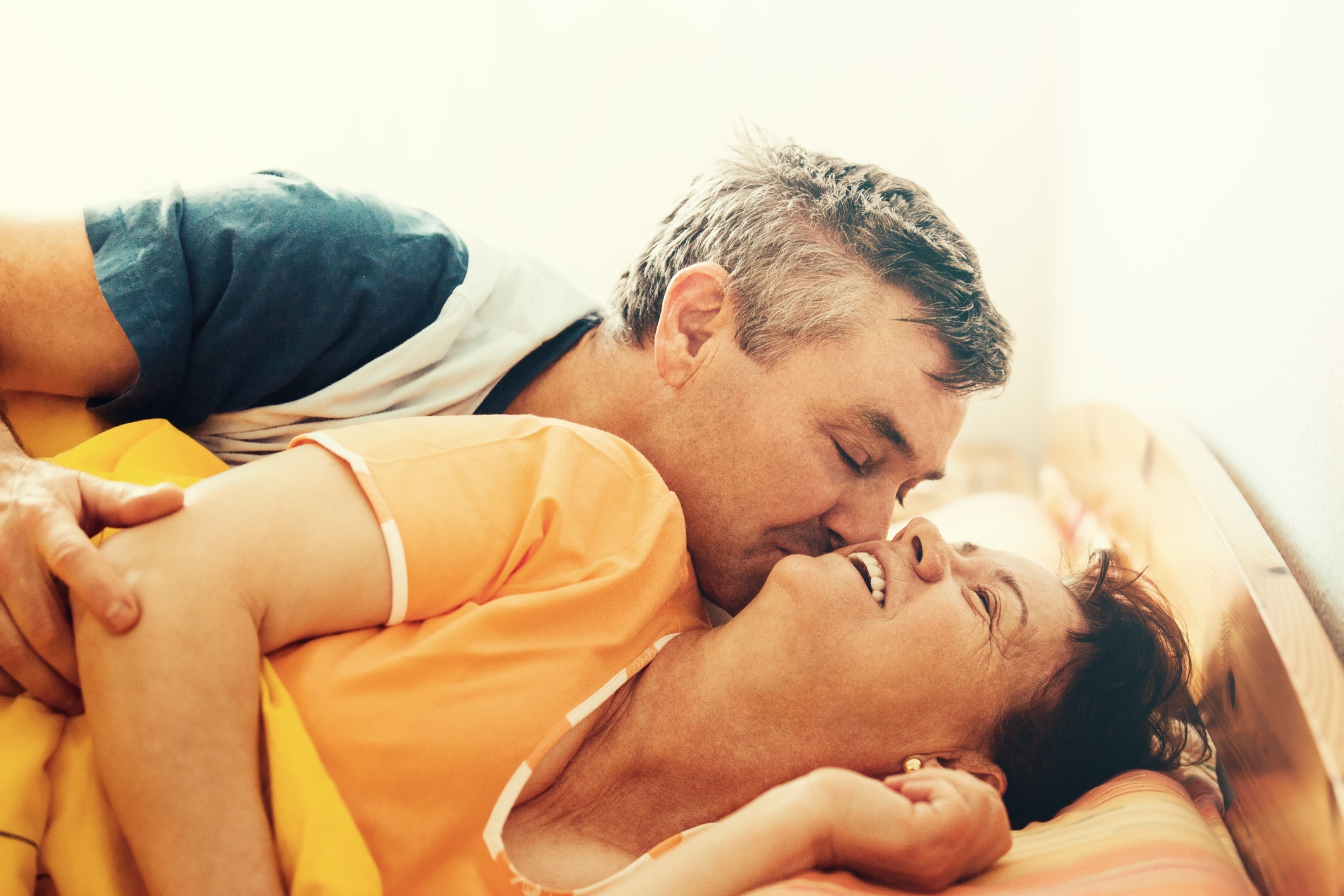 Bodies change with age, and that can lead to a very problematic (but common) misconception for married couples. The assumption is that sex declines with age, but that doesn't have to be the case. In fact, sex can get even better after middle age!
While this is true for both men and women, today we'll focus on women (they often have more complex sexuality, and tend to be more often affected by this misconception).
The first culprit here is menopause, which can lead to changes in body chemistry, libido, and physical symptoms that make sex uncomfortable (or even painful). The North American Menopause Society estimates that 17% – 45% of women experience physical problems with sex after menopause, but even for this section of the population, there are solutions!
There may be prescription and over the counter medications that can help, but the simplest "treatment" is one that many women overlook. Discomfort and difficulty likely stem from deteriorating tissue and reduced circulation, which can cause women to avoid sex… In reality, however, engaging in sexual activity, or just becoming aroused, stimulates blood flow and helps fight back against the issues! If you're experiencing such symptoms, don't avoid sex – embrace it as much as you can!
Beyond the physical difficulties that can make women want to avoid sex, there are plenty of psychological factors at play too. The maturity and confidence that come with age can be the biggest assets, and help women over 50 enjoy the best sex of their lives.
This plays out in a few ways:
Self Awareness
By the time you're over 50, you've had time to learn "who you are." That means understanding your own sexual appetites, what you like, what you don't like, and your own psychological and emotional "hot buttons."
Confidence
Unlike younger women, you are likely far more comfortable voicing your desires, going after what you want, and speaking up when things aren't working. This means you have far more power in the bedroom than people half your age! This confidence also affects body image, comfort with trying new things, and so much more!
Effort
At this point, you probably understand that marriage (and a healthy sex life) takes conscious effort. This is an advantage in the bedroom because you are willing to make sex, flirting, and quality time with your spouse a priority – instead of just expecting it to happen on its own.
Freedom
As you pass middle age, the kids are probably grown, finances are more stable than your younger years, and you've figured out how to better manage your time. All of this means more freedom! That can be taking romantic trips together, more free time because of retirement, or simply having the house to yourself more often – all opportunities to have more, better sex!
Let's do away with the myth that sex is "supposed to" decline with age. The only reason it declines is because people allow it to, and don't make it a priority in their relationships. Take the necessary steps to keep your body up to the task, and embrace the beauty of sex after 50!
For more advice on how to strengthen your marriage, check out the StrongMarriageNow System today!
[i4w_m_vsl_promo1]
Dr. Dana Fillmore and Amy Barnhart, co-Founders, StrongMarriageNow.com