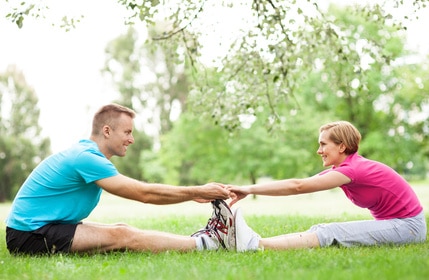 Making yourself a promise to shed some pounds, get in shape, and/or change an unhealthy diet are some of the most common New Year's resolutions, and it's easy to understand why – not only are we a nation obsessed with junk food and body image, but it's also a pretty natural backlash from the indulgence of the holiday season.
Now, for some people, making the choice to get in shape or eat healthier is approached with seriousness. They change their routines, their habits, and commit themselves 100% to their new goals – and generally succeed. Unfortunately, most of us don't have that kind of drive behind our resolutions, and are more of the "dieting because I overindulged over the holidays" type of crowd. What this means, in short, is that we fall right off the wagon about this time of year.
If this sounds familiar, don't get discouraged! First off, you're not alone (nearly half of New Year's resolutions are all but forgotten by the end of January), and more importantly, there's nothing in the rules that says you can't keep trying!
Part of the problem is the way so many people approach the goal of a healthier lifestyle, a healthier body, and a healthier diet. When such major changes are part of a New Year's resolution, you're setting the expectation that a "new you" will be magically reborn come the first of the year, that you'll wake up that morning, toss out all the sweets, head straight to the gym, and be well on the way to the new you.
We know reality doesn't quite work like that, though. Making changes takes time. You have to develop to new eating habits, work your way up to an exercise routine, etc. So many of us fail to achieve our resolution for weight loss because we set our sites too high, and instead of making small changes along the way, we expect to shift course entirely and become someone else overnight!
Maybe a better approach is one of gradual and intentional progress – just like achieving other goals, the process is a journey, not a moment of instant gratification. If you set your sites on weight loss or a healthier lifestyle for 2014, but feel like you're already falling behind or off the wagon, try breaking your goals into smaller, more manageable steps.
Try starting with one good exercise session per week, or fitting 10 or 15 minutes of exercise in each day. Alternatively, get rid of the tempting junk foods in your house, and make an agreement with yourself not to buy more. When you've accomplished that first step, start working on the next one.
By segmenting your goals into more specific and methodical pieces, you'll not only be able to stick them easier, you'll also feel a sense of accomplishment and positive reinforcement when you've mastered one piece and can move on to the next.
Resolutions don't do any good if they are too broad, and we certainly won't stick to them if the only goal seems impossibly far away. Instead of thinking about what year it is, or what the final result is, get excited about the principle behind your resolutions.
When you get focused on the steps instead of the destination, making a little progress each day seems so much easier – and if you stick with it, the results will show up on their own.
For more advice on how to strengthen your marriage, check out the StrongMarriageNow System today!
[i4w_m_VSL_promo1]
Dr. Dana Fillmore and Amy Barnhart, co-Founders, StrongMarriageNow.com