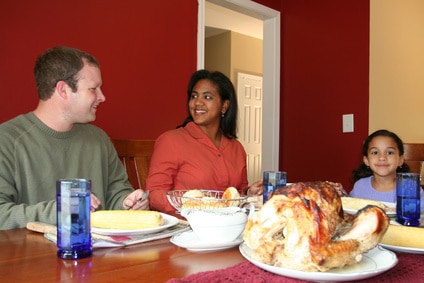 For most people, Thanksgiving is already set aside for family and togetherness, but beyond your regularly planned family events, the holiday is also a great chance for some extra closeness with your spouse.
To fit with the Thanksgiving theme, it's a chance to really show your husband or wife how much you appreciate having them in your life. Just taking the time to sit them down, look them in the eyes, and show your gratitude will leave you both feeling connected and full of those warm fuzzies we all love!
If you want to step it up a little, here are a few suggestions for making your spouse feel extra loved this Thanksgiving:
1. Reminisce (with help)
Dig up some old photos or mementos from your past, and sit down with your spouse to reminisce about happy times. Share stories, conjure up nearly-forgotten memories, and laugh over reminiscence of the good old days!
Talk about the great times you've shared, and why you love spending those moments together.
2. Make A List
Take a moment to write down five things you love and appreciate about your spouse. When the opportunity is right, sit them down and go through the list! Recognize that these are things to love about your spouse, but also things to be thankful that they've shared with you!
3. Step Away for a Quick Heart to Heart
In the midst of all the holiday running around, whether that's traveling, preparing meals, wrangling the kids, or catching up with family members, take a moment to pull your spouse aside and let them know just how much you love them in that particular moment.
When we remind our spouses how much they mean to us, it leaves them with a certain glow that can be carried through the rest of the day.
Now, these tips may be directed toward having a special Thanksgiving with your spouse, but the truth is that you can use any of these for any member of your family!
Spend this Thanksgiving strengthening the connections you have, and building the ones you wish you had. It's all about love, appreciation, and togetherness.
Happy Thanksgiving!
For more advice on how to strengthen your marriage, check out the StrongMarriageNow System today!
[i4w_m_VSL_promo2]
Dr. Dana Fillmore and Amy Barnhart, co-Founders, StrongMarriageNow.com