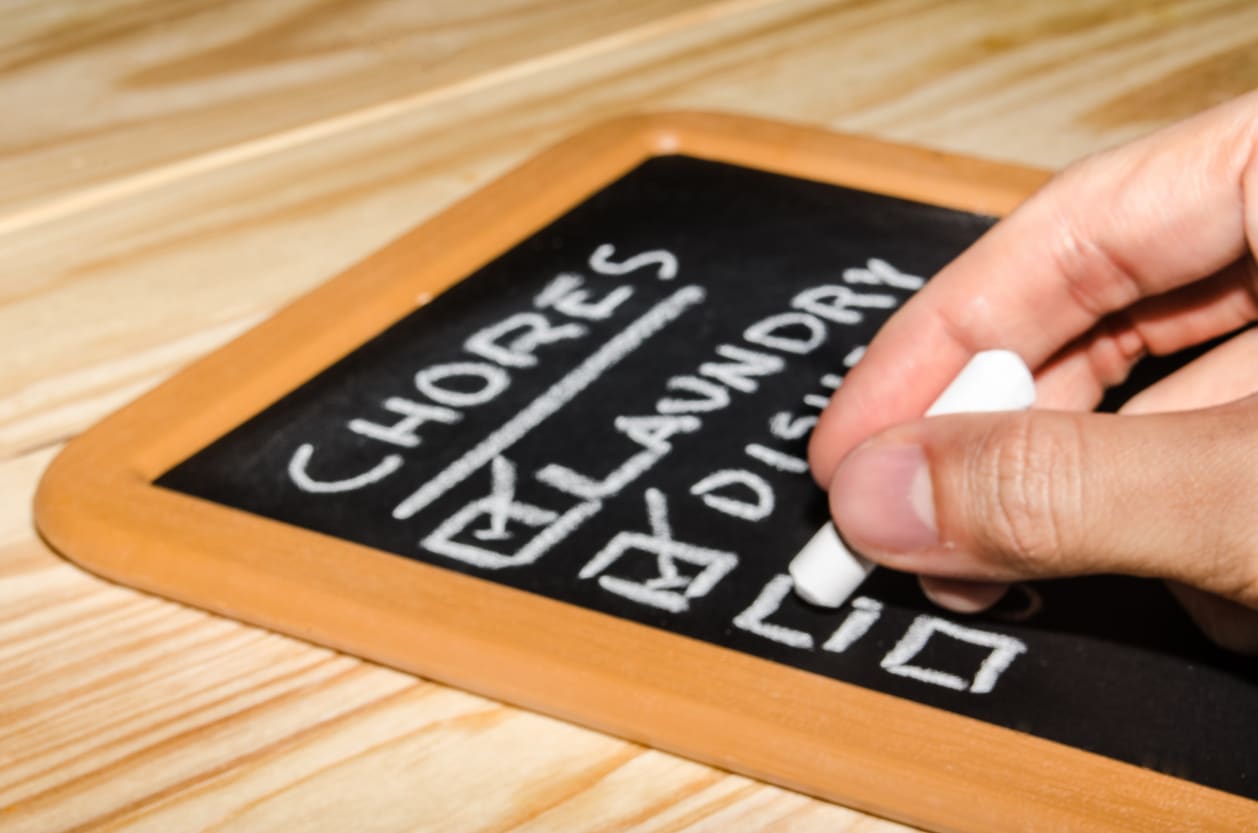 Domestic maintenance isn't necessarily an enjoyable thing. Even if you like the results – a clean bathroom, clean clothes to wear, a well-kept lawn – the actual process of getting these things in order can be boring, feel like drudgery, and is awfully easy to neglect. But if you don't do it, someone else has to.
We sometimes forget that the things we enjoy (in our own homes or otherwise) are the products of someone's hard work, that every made bed, mowed lawn, cooked meal, vacuumed carpet, and scrubbed toilet took the time and energy of a real live person.
It's easy to take things for granted when you're not doing them yourself – and the opposite is true too: it's easy to feel resentful if you feel like you're pouring your effort into chores for someone else's enjoyment, especially if they aren't returning the favor.
Division of household responsibilities is one of the most common things couples fight about, right behind money. When there's an imbalance of household responsibilities, people usually fall into one of two camps: either they feel like they do everything all the time, or they're sick of being nagged about doing more around the house.
In either case, it's clear that there's a disparity of responsibility that needs fixing. For the person who feels nagged, they simply need to understand that they're not holding up their end of the bargain – or their contributions are going unrecognized.
For the person feeling overloaded, they need to reassess how they're asking for help, perhaps relinquish some of their need for control (which can go hand in hand with taking on too many responsibilities), and even look for places where some of the chores can slide a little.
In either case, the solution rests in establishing some ground rules, working together to find a way to agree one a) what needs to be done, b) how often it needs to be done, and c) who's going to do it.
Every household, and with it, every couple, is going to have a different set of responsibilities. There are the common ones, of course, like house cleaning, paying bills, maintenance on the house or the car, and all of that – but there will also be needs totally unique to your family. And because we're all a little bit different, there are going to be things we just HATE to do, and other things we don't mind so much.
So how do you figure out who's supposed to do what?
As with so many other problems, the solution begins with communication!
First, you've got to take a step back from the whole ordeal and just agree that nobody likes to do chores, but they still have to get done. It doesn't have to be a "your or me" division, but rather a "we" approach to getting things done because you both desire the results. This means contributing your fair share not just because you "have to," but also so your spouse doesn't feel overburdened – so you can both enjoy the fruits of labor your BOTH contribute.
The next part, however, has to get down to the nitty gritty a little bit. You've got to decide how you're going to split things up. For some chores, it's easy – if one of you is particularly well organized and already maintains household finances, it seems pretty clear that bill paying is an apt job for that person. The same goes for household maintenance or preparing a large, fancy meal – sometimes skillset determines who's best for the job.
In still other situations, being nitpicky about something minor may equate to volunteering for a particular job. Hate the way your spouse folds laundry or loads the dishwasher? If you've got a particular way you want it done, you might just have to do it yourself.
Now, for EVERYTHING else (and there's no shortage of chores to be done on any given day), you just have to divide it up based on who has time, who has energy, and who hates what the least…
For some couples, a strict division of responsibilities works best – one person does the laundry, the other does the dishes, etc. For others, it's a matter of who has the time in the moment, as long as things get done. Most commonly, it will be some combination of the two, where some responsibilities are "assigned" and others are shared.
However you choose to split things up, this problem has to be addressed to avoid unnecessary stress and conflict. Instead of making demands of one another or setting unrealistic expectations when you haven't talked about it, the happiest and most equitable solution stems from both people in the marriage taking personal responsibility for the good of the household.
If you're both volunteering to get things done (without having to be asked), you'll be less likely to feel like anyone is shirking responsibility – and less likely to feel the need to nag your partner.
You can try tactics like listing ALL of the household responsibilities you contribute to, estimating the time spent, and comparing your list with your spouse's to work toward a more even division of labor.
You can barter with chores: i.e. "I'll walk to the dog and unclog the sink if you'll take care of the laundry."
You can tackle some things together, deciding on a day and time double-team cleaning the bedroom or the kitchen, or one of you sweeps while the other mops, one of you washes dishes while the other dries and puts them away.
However you slice it, the important lesson here is to be up front about your expectations and your feelings so no one feels overburdened or neglected. Don't put all the responsibility on yourself, and don't expect your spouse to do everything either. It's up to everyone to contribute!
Keep this sorted out and you'll feel the stress melt away!
[i4w_m_VSL_promo1]
For more advice on how to strengthen your marriage, check out the StrongMarriageNow System today!