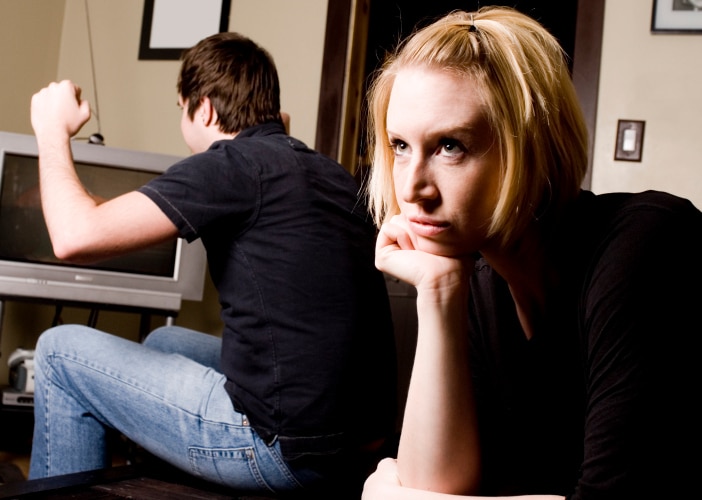 As the NFL Playoffs are wrapping up and the Super Bowl is on the horizon, many women out there may be experience some feelings of neglect from their football obsessed husbands. Maybe even some husbands with sports fan wives are experiencing the same!
If this sounds familiar, if you've spent Sunday afternoons and Monday evenings waiting for your spouse to unglue their eyes from the onscreen contests, don't worry – you certainly aren't alone!
Football is one of the most popular sports in America, the playoffs (not to mention the Super Bowl) garner huge audiences year after year, and let's be honest, there probably isn't much you can do about your husband's love of the game. It's a cultural institution that many people have grown up with, played as children and young adults, and have built traditions and friendships around.
With this in mind, there are really only two ways to navigate the feelings of being a "football widow" without asking your husband to give up something very important to him.
1. Let It Go
Sometimes it's ok to recognize that you simply don't share all of the same interests, and that spending time separately on hobbies you don't share is just fine! Even if it seems silly to you, if your spouse is investing their time and effort into football fandom, it must be important to them. If you don't share this interest, it's no reason to scoff at or belittle their involvement.
Instead, find something of your own that can occupy some of that same time. Fortunately, football follows a pretty rigorous schedule. You can find out when your spouse's games are on, and make sure you have plans of your own!
It doesn't have to be a point of contention, and you don't have to feel abandoned when he wants to watch the game with his buddies. Just let him have his time, and find something fulfilling to do with yours!
2. Get Involved
On the other side of the coin, you could make a point to get interested in football yourself (even if it's just to see what all the fuss is about)! Even if you show just a little bit of genuine curiosity, the guys will probably jump at the chance to share their wealth of knowledge.
It might be a bit of an overload at first, but even just getting into some of the basics might help you understand why they are so excited, give you a sense of camaraderie with your husband and his friends, and give you a glimpse into one of your spouse's primary interests.
Here's a secret: if he has football video games, ask him to play one with you – you'll get a better sense of what's going on through interaction than through observation alone.
Now, it's worth mentioning that an unhealthy obsession with sports (or anything else, for that matter) can create problems in a marriage, and if your spouse is neglecting other responsibilities, getting overly angry, or having other serious issues because of an attachment to football, you should most definitely try to approach the issue – if it's reached the point of being a major problem, it probably has to do with more than sports.
If it's just a hobby, though, or a way for him to bond with his friends and express his love for the game, don't worry too much about it! Even if it means you're feeling a little left out on Sunday afternoons, you've got to take responsibility for your own happiness, and either get involved or find something better to do!
For more advice on how to strengthen your marriage, check out the StrongMarriageNow System today!
[i4w_m_VSL_promo3]
Dr. Dana Fillmore and Amy Barnhart, co-Founders, StrongMarriageNow.com