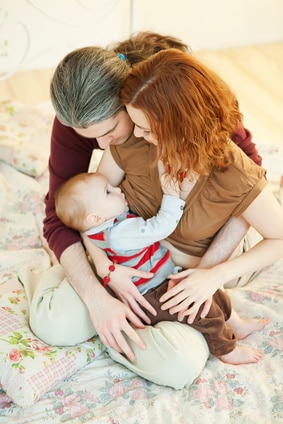 Marriage is a team sport, right? It takes both of you working together to maintain happy, strong relationship. With that said, however, there are certainly things you can do all on your own to help make the marriage the best it can be.
The following tips are meant to help you get closer to being the ideal man for your wife, and while not all women want the same things, these are pretty universal ways to make a positive impact on your marriage.
1. Show and Tell
Your wife wants to be desired, but more importantly, she wants to be desired for the person she is! Women pretty much understand that men desire them physically, but you should be making a point to tell your wife what you desire about her specifically. What qualities does she possess that drive you wild? What are you most attracted to?
Beyond the physical, telling your wife, directly and specifically, what it is you love about her will make her feel appreciated and special.
Show your affection and let her know how much you appreciate her – doing so will help her feel valued, boost her self-esteem, and let her know that she is in the forefront of your mind.
2. Listen
Men tend to be problem solvers, and that means that instead of listening to their wives' problems with empathy and support, they immediately try to come up with solutions and suggestions for "fixing" whatever might be wrong. While this happens pretty naturally for most men, this isn't always what a woman wants to hear.
If she wants your help solving the problem, she will likely ask for it. Most of the time though, she just wants to communicate to you that she's having a hard time, and the only thing she needs from you is your love, patience, and support.
Listen to her closely and offer your empathy, but don't feel the need to offer solutions until she asks for them – or at least ask if she would like suggestions for solving the problem at hand before you offer them.
3. Be Aware of Your Word Choice
Being open and honest is an important part of a marriage, but that doesn't mean you need to be overly blunt, crass, or hurtful with your honesty. The cliché question of "does this make me look fat?" is a perfect example of this. If the answer is undeniably "yes," there's a big difference in saying that the other outfit looked better or that it might be a little snug, and simply telling her "yes, you look bad." The first response has tact, and is honest, but doesn't disregard her feelings. The second is cold, and doesn't offer any kind of affection or support.
Now, not all scenarios are going to be like that classically loaded question, but choosing your words carefully can make all the difference in how your statements are received. Make sure that even when you have to say something negative or critical, your wife knows that you love her.
4. Check Out Some Romance
There's a reason that romance novels and "chick flicks" have such massive appeal. As unrealistic as they may sometimes be, many women just adore romantic, powerful heroes in these kinds of stories, and taking the time to do a little research might give you some extra insight into the female psyche.
You'll notice that most of the male characters in romance stories are brave, strong, confident, in control, and hold overwhelming desire for the female lead. Even adopting just a few of these qualities can make you a real life hero in her book!
5. Surprise Her!
Whether it's taking care of some unruly project around the house or planning a romantic night out, take some initiative to surprise your wife with something special. This is more about showing her that you want her to feel special, so as long as it makes her happy, it doesn't really matter what the surprise is!
Surprises can bring some extra brightness to an already good day, or completely turn around a not-so-good day! Brainstorm some ideas of what would make her jaw drop in happy surprise, and get to planning!
All of these tips are meant to make your wife feel special, desired, loved, and appreciated – and making her experience these wonderful feelings will build your connection to one another, boost her happiness, and make your marriage healthier!
Next time, we've got some tips for all the wives!
For more advice on how to strengthen your marriage, check out the StrongMarriageNow System today!
[i4w_m_VSL_promo]
Dr. Dana Fillmore and Amy Barnhart, co-Founders, StrongMarriageNow.com