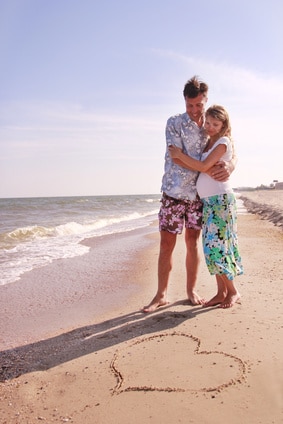 There's something about the summer that makes people feel good. It could be the sunshine, the warm air, or maybe just the prospect of summer vacations and the longest days of the year!
Whatever the cause, summer is the time for fun in the sun – but that's not all – summer can be the time for some extra fun in the bedroom too!
When the temperatures climb, so can your sex life. Think about it, sunny days give us more energy, and the long days make it feel like we've got more free time. Warm weather probably means we're all showing a little more skin than we do the during the other seasons, even if it's just to stay cool, and this alone can be inspiration enough for more lovemaking than any other time of the year!
Summer is the time for vacations, warm weather, flirting, and showing some skin.
Summer time can mean vacations, and with it, time spent away from the kids or staying in new places. New locations and day-to-day adventures also help spark the libido, so if you're feeling frisky this summer, go for it!
We've talked plenty in the past about how important a healthy sex life is to a marriage, and maintaining a healthy sex life also includes knowing what works for you and your spouse. To keep things at a "fever pitch," it's a good idea to be open to flirtation throughout the day.
Summer provides ample opportunities to escape for a short walk with your husband or wife, to swim together, or if nothing else, to sit around the house with very little clothing on!
Taking advantage of situational boosts to your sex life is a great way to keep things fresh, to prevent your bedroom activities from becoming too routine (or worse, mundane).
If you haven't been already, try to capitalize on the warm weather for the rest of the summer, especially when it comes to your sex life. There's nothing wrong with letting the heat get you "hot!"
For more tips and advice on improving your sex life, boosting communication, and strengthening all other aspects of your marriage, check out the StrongMarriageNow System today!
[i4w_m_VSL_promo1]
Dr. Dana Fillmore and Amy Barnhart, co-Founders, StrongMarriageNow.com