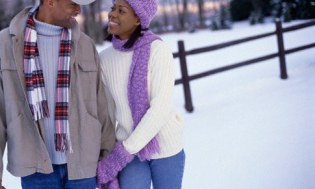 Who says that you have to stay inside all winter? As temperatures drop and the snow starts to fall, don't just hide under the blankets and wait for the sun to come back out. There are plenty of fun and exciting things you can do to enjoy the frosty season with your spouse!
Here are four ways for you and your spouse to have some fun in the snow:
1. Wintery Hike
Bundle up, pick your favorite spot out in nature – the woods, the beach, you name it – and go for an extended hike. You can bring soup or hot cocoa in a thermos, pack some hand warmers (and maybe a little bourbon), grab a walking stick, and get to exploring the great outdoors. You'll be amazed how different familiar places look in the dead of winter, and the natural quietude gives you a great chance to chat with your spouse in a beautiful setting.
2. Snow Fight
Now, this only stays fun if it stays civil, but a little rough-and-tumble through the snow banks can be an awfully good time. Wear plenty of layers and be prepared to get a little chilly! You can make up whatever rules you want, or play whatever game you can imagine – capture the flag, king of the hill, or just a good old fashioned snowball fight. After you're thoroughly exhausted from chasing each other around, head back inside to rest in front of the fireplace – you can have some fun warming each other up too!
3. Build an Igloo
This one is a little more ambitious, and may take more than one outing to complete – but the final results are worth it! You can pack snow into a rectangular container to make blocks, and use them to craft your very own backyard igloo. This project will exercise your ability to work together, and if done right, give you (and the kids) a secluded little hideout to enjoy. For some more detailed instructions on igloo building, check out this guide.
4. Downhill Adventures
Whether you've got a tube or a toboggan, a sand dune or just a little rolling hill, sledding is THE classic winter fun activity. Chances are, you can find a good sledding slope somewhere in your area, and even the crudest of downhill devices can be a lot of fun (you can find a cheap sled in just about any big-box store). You can ride tandem, or if you've got more than one, you can race!
Getting outside, no matter what the activity, will get your blood pumping and your muscles moving (who couldn't use more of that?), and the connections you build with your spouse will keep you feeling warm and fuzzy in any temperature. Get out there and enjoy the snow!
For more tips on how to strengthen your marriage, check out the StrongMarriageNow System today!
[i4w_m_VSL_promo]
Dr. Dana Fillmore and Amy Barnhart, co-Founders, StrongMarriageNow.com