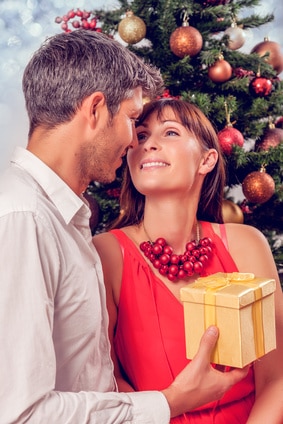 The holidays can be a pretty chaotic time of year, especially if you have young ones, family events to attend, and gifts to pick out. With all of this running around, it's all too easy to pass over one of the most important parts of the holiday season: connecting with your loved ones.
This year, take a moment to give your spouse a gift that won't cost a dime, but will spread love and good cheer throughout the holiday season – and hopefully throughout the year too!
This no-cost gift is simple to give, and won't take too much of your time – all it takes is being heartfelt and sincere.
This holiday season, set aside some time where you and your spouse can be alone and give them this gift:
Look your spouse in the eyes and tell them how much you love them, share three specific things that you appreciate about them and what they bring to your marriage (don't be afraid to be descriptive), and finally, tell them what you're looking forward to about spending the year to come with them.
This is a great way to pause the frantic holidays for a special moment for just you and your spouse, and lay a little bit of groundwork for keeping your marriage happy and strong through the stressful season and on into the New Year.
Just taking this time to speak candidly with one another about what's going right in the marriage can be a powerful reinforcement, and serve as a nudge to tackle aspects of the relationship that could use a little improvement.
The holidays are a time for love, family, and togetherness, and what better way to feel close than taking a moment to really tell each other about the best parts of your marriage?
Even if we know in our hearts that we love our spouses, and that they love us, it never hurts to come out and say it, especially backed up with some warm, meaningful specifics about why we love them.
In the rush of the holidays, don't forget the gifts your marriage provides. Be thankful, and return them in kind!
For more advice on how to strengthen your marriage, check out the StrongMarriageNow System today!
[i4w_m_VSL_promo1]
Dr. Dana Fillmore and Amy Barnhart, co-Founders, StrongMarriageNow.com