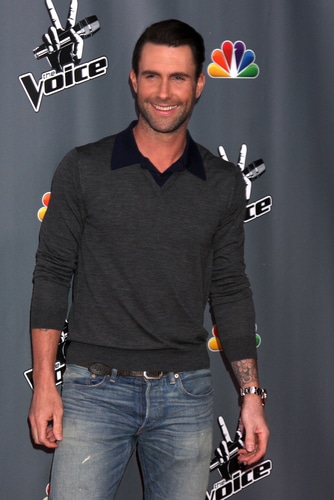 People magazine just announced this years Sexiest Man Alive, singer and The Voice judge Adam Levine! While there's no doubting that Adam is quite handsome, it isn't just his looks that make him sexy.
Sex appeal can mean different things to different people, and not all of us have the same opinions about what we find attractive. There are a few things, though, beyond the subjective assessment of looks that make Adam a great candidate for this award, and can help inspire all of us to be sexier for our spouses!
Here are three qualities of the Sexiest Man Alive that we can all draw some inspiration from:
1. Creativity
While many people know him from his role on NBC's The Voice, Adam's first claim to fame is as the singer of Maroon 5. The typical "rock star" sex appeal may apply here, but there's also something attractive about "creative types."
It takes a certain sensibility and connection with oneself to create music or art, and that level of self-awareness is attractive! There's also something brave about putting your creations out there for the world to see and critique.
It also shows dedication to a craft – being willing to hone talents and spend time on self-improvement!
2. Easy Going
Adam comes off as a pretty relaxed guy, and that easygoing nature is certainly part of his appeal. He seems to have a great sense of relaxed humor about pretty much everything, including this award from People!
He's parodied himself on Saturday Night Live and Family Guy, showing fans and critics that he's not afraid to poke fun at himself, and that translates into a certain confidence and sense of humor that many people find attractive.
3. Healthy Body
Now, we can't totally overlook the physical when it comes to sex appeal – and the thing we can learn most from Adam (and plenty of other attractive celebs) is all about taking care of our bodies to look and feel our best. Adam credits yoga as his main source of fitness, but the lesson is that these notoriously "sexy" celebrities all spend time and effort their physique.
No one is expecting you look like a movie star (and most of us can't afford nutritionists and personal trainers), but there is plenty to be said about making an effort to stay in shape – it makes you feel better and boosts your confidence too!
When you see things like this in the media, instead of separating yourself from the celebrities, look for inspiration! If Adam Levine has been determined by People magazine as the Sexiest Man Alive, what can you learn from his example to feel sexier for spouse?
When you can take inspiration and apply it directly to strengthening and improving your marriage, it means that you're putting the quality of your relationship at the front of your mind, and doing everything in your power to make your marriage the best it can be!
For more advice on how to strengthen your marriage, check out the StrongMarriageNow System today!
[i4w_m_VSL_promo1]
Dr. Dana Fillmore and Amy Barnhart, co-Founders, StrongMarriageNow.com