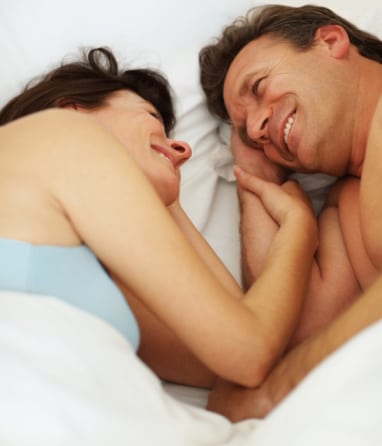 There's a really unfortunate misconception when it comes to sex and middle age. Many couples may begin to feel their sex drive waning, feel less attractive, or simply experience changes in their lifestyle that make sex less and less of a priority in the relationship.
In reality, this myth is self-perpetuating. As couples get older, they hear stories of sexless marriages, struggle with their self-esteem (at least related to physical appearance), and simply assume that all of this stuff is "normal" – instead of making an effort to work on it. Nobody hears about the couples with happy, healthy sex lives well into their 70s, but it's not nearly as uncommon as you might think!
There are plenty of reasons why your sex life doesn't have to fade as you get older, and even some ways it can get better with age!
1. Long-Term Connection
When it comes to sex, especially in a long-term relationship, the longer you spend together, the more you learn about your own desires AND your partner's.
When you know your spouse so well, you have the opportunity to share a depth of connection that younger couples just haven't had the opportunity to grow into.
2. Practice Makes Perfect
This one's pretty simple. The longer you've been doing something (anything), the better you get at it. This means getting to know your own body, what works for you, what works for your partner, etc.
Experience also has a way of reducing anxieties and helping us learn the finer points of any activity. Sex after 50 is no different. By this time, you've probably learned to take your time, to savor the small pleasures, and to really focus on your partner. It often takes people a while to figure that stuff out!
3. Fitness
If sex gives your body exercise, and getting exercise helps keep your sex drive healthy, doesn't this sound like a perfect combination?
Some people allow their sex lives to dwindle because of the way they feel about their bodies, but they could actually tackle both problems at once. It works like a feedback loop – you just have to have the confidence to get started. A more active sex life will help you burn calories and feel more energetic, helping you get in better shape. Being in better shape will, in turn, make you feel more confident and sexy, which will lend itself to a more active sex life – which brings us back to the exercise you get from sex!
4. Development of Your Best Asset
Despite what anyone may have told you, the most important sex organ is the brain, and maybe unlike some of your other body parts, you can continue to sharpen and strengthen this organ your entire life!
Sex is as much mental as it is physical, and the way you think about it, your overall understanding of the broad and complex topic, and even your openness to new things are all developed mentally, and can be refined over time.
Middle age can actually be a mental prime for many people, when life experience and overcoming challenges have helped you lock in the power of your own brain. This same mental fortitude can be your biggest asset in the bedroom!
5. Freedom
This might just be the biggest benefit of all. By the time you're 50+, there's a pretty good chance that the kids are grown and out of the house, or at least spending a lot more time on their own. If you're a little bit older, you may even be enjoying retirement!
All of this means more free time, fewer distractions, and a massively reduced chance of being interrupted. The basic availability for more, better sex is right there in front of you! It means you can have any room of the house, you can be noisy, and you don't have to cloud the back of your mind with kids' schedules or who needs to be picked up from soccer practice. When you've got the house to yourself, anything goes!
The belief that your sex life dwindles with middle age is nothing but a myth, perpetuated by couples who haven't yet discovered how great their sex lives can be after 50!
What are you personal experiences with this topic? If you're over 50, how has your sex life improved? Let us know in the comments below!
For more advice on how to strengthen your marriage, check out the StrongMarriageNow System today!
[i4w_m_VSL_promo1]
Dr. Dana Fillmore and Amy Barnhart, co-Founders, StrongMarriageNow.com